Glass
Max. thickness / mm /
Glass dimensions L x H /m/
Grinding machine
External dimensions LxWxH /m/
Max. load / kg /
Wheel / spindle
Equipment
Measuring of the spindle position by machine run
Spindle inclination
The cooling system
Diamond wheel 6mm
Polishing wheel
Glass conveyor DS 01 2,6 m
Grinding and polishing in one operation
2 wheels on the spindle
Solid frame
Circle edging
Options
Glass conveyor DS01 1,6m
Glass conveyor DS01 2,6m
Change voltage to 230V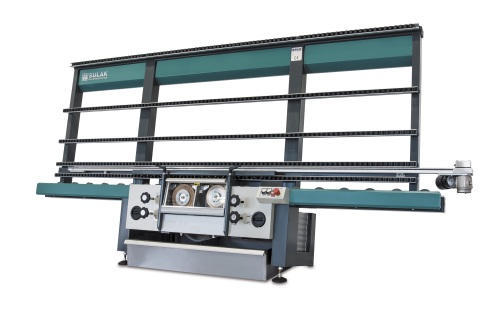 Features
Minimum price for grinding / polishing
Glass feeding solution simple and innovative
Considerable operational possibilities
Easy glass handling
Great performance on a small area
Easy operation
Compact, affordable, space-saving
Vertical Edgers
The vertical edging machine of sheet glass represent the top technology of grinding and polishing
straight and circle shaped glass. The main feature of all our machines is easy handling and high
endurance.
SULAK vertical edging machine of plate and sheet glass keeps your costs per 1m of edges on the
bottom limit for grind and polish. You can have one or two spindles machine models. Scope of
delivery for all models is included with reliable cooling systém, wheels for grinding and polishing,
therefore many models grind and polish in one shot. Innovative and uncomplicated solution for glass
drive systém gives to operators easy handling.
Do you want to ask us something?