Glass
Max. thickness / mm /
Glass dimensions L x H /m/
Grinding machine
External dimensions LxWxH /m/
Max. load / kg /
Wheel / spindle
Equipment
Spindle Position Measurement
Setting the spindle position while the machine is running
Wheel inclination
The cooling system
Grinding wheel 6mm
Polishing wheel
Grinding the edges of glass strips from 20mm
2 wheels on the spindle
Solid frame
Shape edging
Circle edging
Options
Glass conveyor DS01 1,6m
Circle edging drive for horizontal edging machines PBK 02
Trolley for small sheet edging BMS 01
Trolley for narrow pieces with eccentric BMSe 01
Change voltage to 3 x 230 V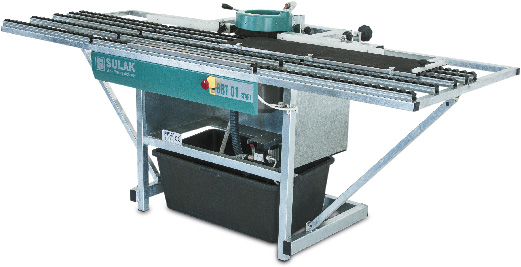 Features
Multiform edging; straight, shape, circles, corners
Easy displacement of the machine
Considerable operational possibilities
Easy glass handling
Great performance on a small area
Easy operation
Zinc dipped
Horizontal Edgers
Please get familiar with SULAK horizontal edging machine of sheet glass. The machines under
this group of models are unique in the endurance even high grade of use. User friendly operation
is as much as possible easy. The proposal starts from old fashioned BH35 to heavy tool for
formats 2*1,5m.
Scope of delivery for all models is included with reliable cooling system, wheels for grinding and
polishing. Optional horizontal edging machines you are able to machine straight, shaped and circle
glass and mirrors. There are different profiles of edges like pencil or flat and seam.
Depend on the specific model you have a wide range of options like glass conveyer or trolley for
narrow glass.
Do you want to ask us something?