VTS 03FP Double-Sided Drilling Machine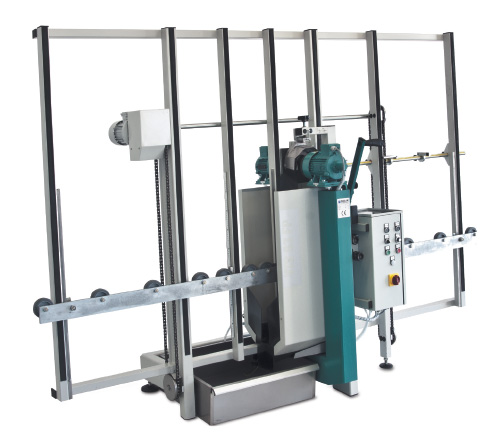 The drilling machine is designed for the drilling of holes in the sheet glass. The machine allows drilling of holes from 5 to 100 mm. The engines are regulated by an electronic inverter within the extent given by the table. Due to the sophisticated system of two drilling heads, the drilled hole is clean and free of any burrs. The motorized vertical travel guarantees easy handling of the glass. Well-developed system of backstops significantly increases the working productivity. Easy manipulation in connection with low operation costs make from this machine an efficient helper for your work-shop.
One-handed ergonomic operation
Motorized vertical adjustment has 2 speeds (the slow is automatically changed within 3 seconds in the quick one)
Drill depth 750 mm
Power consumption only 1,8 kW
Compact design, affordable system, saves floor space
Exact and easy control of coordinates (precise location of the hole centre)
2-years warranty
Compatible accessories:
Technical data
2920x920x2020
114"x36"x79"
3×400 V
(1×230 V)
(3×230 V)
50/60 Hz
1,8 kW
550-3900/min
3-20
1/8"- 3/4"
385 kg
849 lbs
5 – 100
1/4"- 4"
750
29 1/2"
120×50
5"x2"
75
3″
75 dB
Youtube
Do you want to ask us something?